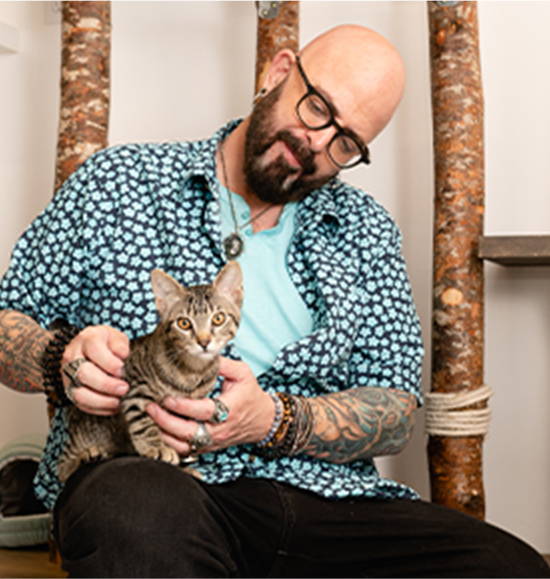 Join our newsletter today to
GET $5 OFF your first order.
Join our newsletter today to
GET $5 OFF
your first order.
I owe my feral cat's life to Feline Essential
We have a feral cat we've been taking care of for a while. He's very elusive and we were never able to touch or trap him, let alone taking him to vet. We can only watch him through the camera we've set up for him. He is such a calm and innocent cat, but he gets bullied by some other neighborhood cats.
After going missing for two days this July, he came back half-fainting with two big scars exposing his skin on his leg and neck. I got some online vet appointments, but they cannot diagnose anything online due to legal procedures, they have to examine the cat in person. I was giving him some supplements to hope that he would recover.
After a couple of weeks, we realized that him twerking whenever he was startled. He was also scared by his own body doing that, and he was very stressed. Online vets refused to diagnose and treat him, I could only use my Google skills to learn that he had Feline Hyperesthesia Syndrome. This was the only thing I was able to find on the Internet that claimed to treat this.
We even could not give the medication regularly, because his visit times for food are often irregular. Even with irregular usage, he was in such a good shape after a couple of weeks. We have not seen him twerking for over a month, his scars healed beautifully. His fur is shining and looking very healthy.
Not that it's working wonderfully, our cat refuses to eat food with some medications due to the affected taste. He wasn't particular about this supplement and he eats his food as usual.
I cannot express how grateful I am.
Today he was beaten up again, but he has small scars. I told the household "Bring up the bottle, it's time to mix it into his food again".
My cat loves the taste
Works great. He does not vomit anymore.
Feline Essential CATalyst Antioxidant Enzyme Formula
I absolutely LOVE this product. My 19 year old suffers from hyperthyroidism and hyperesthesia. I've been giving him this for about a month now, and he's eating better and gaining weight again. It's also helped his coat. He's stopped what my vet has always called "over-grooming". His hair has grown back much thicker and softer. Thanks for this product Jackson!
Vitamin supplements ts for cats
The cats must have suffered from early inset of some type of illness, they are now 6/8 years old and they tend to have secondary bacterial infections either in their throat or sinuses. It doesn't appear to be preventing much in either cat but they do appear healthier looking. Think I will continue with a lysine and vitamin c treatment along wit the product's i purchased.
Feline Essential CATalyst Antioxidant Enzyme Formula