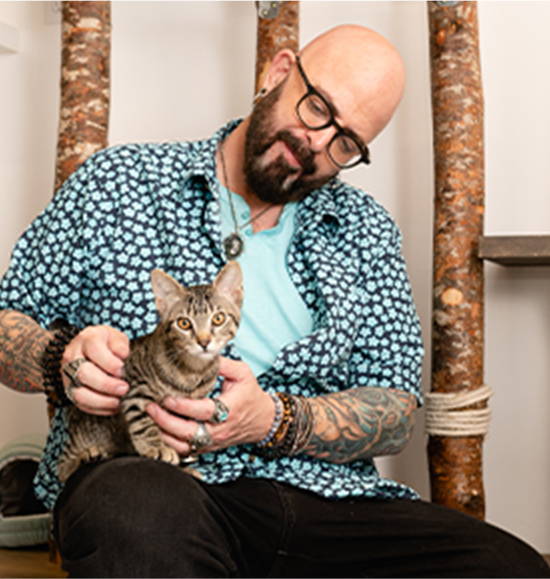 Join our newsletter today to
GET $5 OFF your first order.
Join our newsletter today to
GET $5 OFF
your first order.
Armarkat Classic Faux Fleece Pet Stairs (3 Steps), Ivory
Great for my Senior Cat!
I have a senior cat who loves to climb onto my bed with me. Previously she was using the small table beside my bed, but even that meant she had to jump. These steps were so easy to put together and as soon as I had them in place, she climbed up them with ease! To top it off, the material on the steps is so soft she decided to curl up and take a nap on the top platform. So glad I purchased these!
Sturdy and looks great
I bought this especially for my senior cat, who has arthritis and was having more and more trouble jumping onto the bed. He wouldn't go near it for almost a year, though, LOL. However, my other cat scampers up and down it daily. It is easy to assemble, and although I was a little nervous that the cats would scratch it up and it would look ratty, it's not as attractive to them as their cardboard scratchers, so it looks just as fresh as when we got it a couple of years ago.
… And yes, after being a literal scaredy-cat for so long, my big old boy does finally use it to get onto the bed. He is about 20 pounds, so it IS sturdy!
Great steps, if your pet is a cat. A dog, not so much
I had hoped my small, agile, athletic pit bull/terrier mix would adapt to the stairs quickly, so she could out my front door. We moved recently, from a full-glass front door to one with glass on the top half. She misses the views, but she has not gone up to the top to look outside unless I lift her up and support her. How much training should I do?
Perfect height for senior cats, stable, and easy to assemble
My senior cat loves this for getting up on the table for his meals. It's the perfect height, stable, and easy to assemble. With a little bit of clicker training to show him what to do, he was on his way. Now he can choose between the usual bench, or the stairs on days when he needs a bit more help. The only suggestion I would make is have the supporting columns wrapped in sisal. The younger cat loves to tear it up and I don't see that lovely plush carpeting lasting too long.