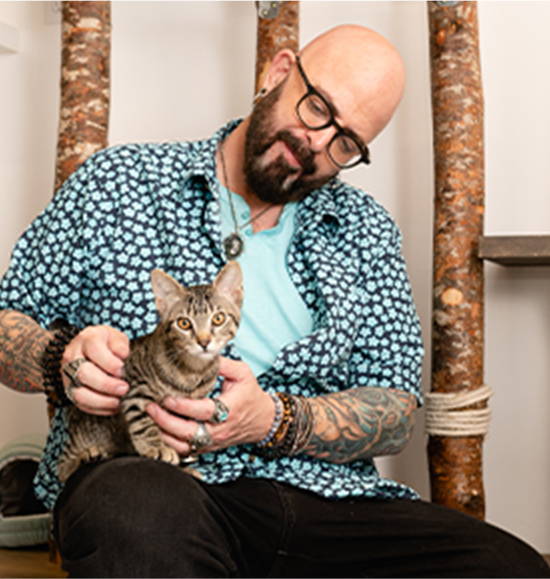 Join our newsletter today to
GET $5 OFF your first order.
Join our newsletter today to
GET $5 OFF
your first order.
Helping
It's too soon to tell if this can cure the trauma my rescue cat has been through. Found on the streets starving especially being declawed. The rescuers had 5 cats that attacked her. I have had her for 2 years now and now she sees her reflection in the doors and thinks it's a cat attacking her. Lots of hissing and she's trying to bite me. She has calmed down a little. I've had to put the drops in her water as she won't eat her food if the drops are in it.
Trauma Free is an awesome resource!
My resident kitties were born in a feral environment. For this reason, they have residual emotional issues from that, even though they've been socialized. I also manage a feral colony, and they have major trust issues! Trauma Free is already showing great results with my indoor resident kitties, their personalities are blossoming to full potential. I will be starting to use it to help my feral colony feel more secure in their environment. I can hardly wait to see the results!
My cat seems more relaxed!
My cat and I went through a major trauma causing us to move a bit in her life. She takes a while to get used to changes, and pets. Recently, I got a puppy which has been very stressful for her due to territories.
I got this and the safe space solution. This trauma free had immediate results. I could see her face relaxing, and it looked as if there was this light switch when she smelled it. I've only done it twice so far, but I'm very hopeful and optimistic about her handling the stress and anxiety better now :)
Was a skeptic but it worked quite well
I used Jackson Galaxy's holistic solutions to help acclimate two cats to their new home. I was surprised at how quickly they came around from a combination of solutions (safe space for cats, trauma free, as well as others) and I would recommend these products for sure. I saw a difference in my cats right away.
Finally Success
I started using Trauma Free in conjunction with Scaredy Cat and Safe Spaces. My prior review was that I was unsure if this or the other solutions were working. But this week was a breakthrough moment. Bella first came into the living room tentitively, then sat on the top of my couch in a relaxed way watching me. I was quietly watching TV. Then she jumped up onto the dining room table and watched me again. Bella then jumped to the floor and started purring and rubbing her face onto my legs. The next thing I know is that she's butting my hand and desperately starving for me to pet her!! I'm sure she hadn't had any petting from her previous home. For the next 1/2 hr she was all love. What a change from the frightened jittery cat that never came out from hiding except to eat and go to litter box never & being tempted by treats. I adopted Bella 9/9/22 and it's now 3/10/23.