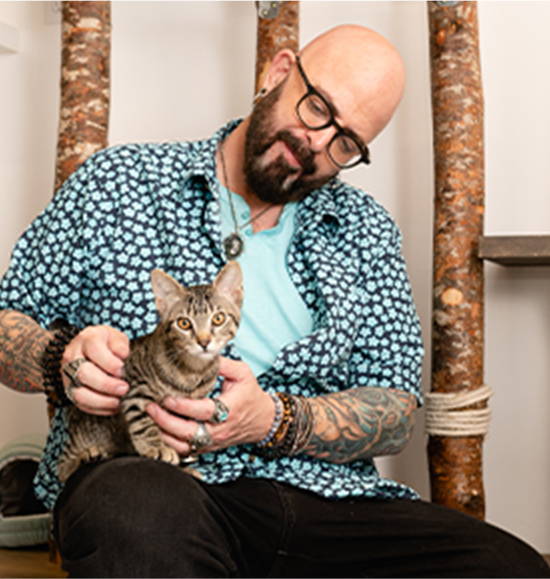 Join our newsletter today to
GET $5 OFF your first order.
Join our newsletter today to
GET $5 OFF
your first order.
My two cats, male and female, can both be bullies. But, since I've been using Bully Solution, they've both calmed down. It's great!
Seems to be Helping
New guy in the household doesn't know how to play with the others and attacks instead. After 14 days using the Bully Solution and Peacekeeper, things seem to be approving. Still protective of my special needs cats, but there is hope for the new guy.
A Tamer Tuxedo
Out adolescent Tuxedo cat, SassyPants, was beginning to bully poor Olivia, my Cavalier King Charles. Jackson Galaxy to the rescue! 3 weeks ago I surreptitiously started adding BULLY SOLUTION to Sass' food and, like magic, peace reigns in our kingdom once more. Thank you for a great product!
I was skeptical
I'm not exactly the type to look for solutions to problems with things like "flower essence" but I was desperate and I'm pleasantly surprised.
My boyfriend and his 9yo female cat moved in with me and my 13yo female cat and despite all of my research and preparation it's been a rough month on everyone. We've kept them separate but anytime my cat caught a glimse of his cat she would moan and hiss.
Another thing we weren't expecting was his cat to hate me and not want me in the same room as her (it's a 1 bedroom apt). She became very territorial over any furniture that came with them from their old place. So if I sat on the couch or at the dining room table she would get in my face and spit and yell.
We consulted a vet but she just said to try the Felaway diffusers. We already have 3 in the apartment so she was out of advice.
I started the bully solution 3 days ago and we noticed a difference right away. I was able to sit at the table and eat dinner with my boyfriend for the first time since they moved in. His cat slept the whole time.
My cat still doesn't seem thrilled with the new living arrangement but she hasn't hissed since starting the bully solution.
We've been putting it on their beds and blankets since both cats notice when they're food or water is "tampered with."
I really am surprised and pleased. I came back to the website to try more products.
Peace
The oils seem ti work and now they actually play with each other!