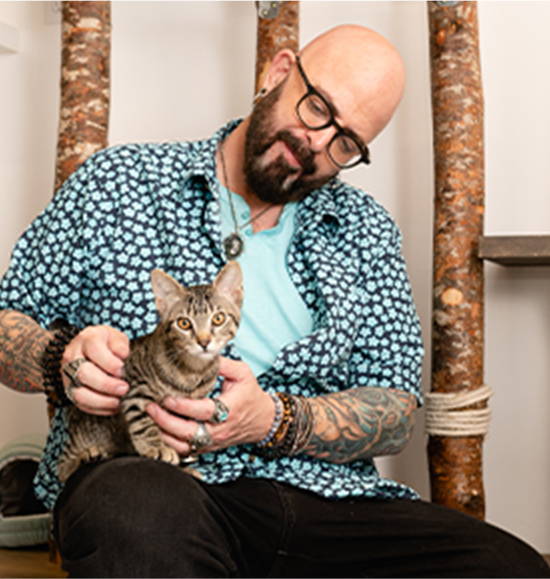 Join our newsletter today to
GET $5 OFF your first order.
Join our newsletter today to
GET $5 OFF
your first order.
Great Product
I have a very energetic Torti and she climbs all over everything. With this product it is helping me train her to stay off.
I also have the night owl formula so she isn't running around and jumping on things at night and keeping me awake. This product along with playtime before bed gets her tired enough to sleep.
Training Formula works great!
My youngest indoor kitties were born feral, and three of them joined our family a bit past the time that it's easiest to socialize and imprint to humans. Because of this, there have been some challenges along the way. Training Formula is addressing those issues beautifully! Along with other Jackson Galaxy formulas, I've been fine-tuning their regimen. Training Formula (used in conjunction with Scaredy Cat) is giving me very good results, in just three weeks or so. I have noticed a marked improvement in the correction of some behaviors, such as inappropriate territory marking, and intimidating timid kitties. Along with positive reinforcement, the progress has been remarkable! I also use it along with Feral Flower Formula to promote trust between me and feral kitties that live in my back yard. they have showed quick progress, once I added Training Formula to their daily water intake.
FOCUS
i use training formula for my resuce poodle, Porter. i got him about 4 years ago and he immediately knew how to help steady me when we walked. so smart and intuitive. the foster said he had come from a breeder when he got too tall to show & spent +hours everyday in a crate! terrible. now he assits me in balance as i we walk. training formula helps him focus when we go to busy public places. love Jackson Galaxy products!
Still Need Help!
My 11-1/2 month old male Bengal has been attacking me. I think because I've been following the wrong discipline information. I'm changing to Jackson's discipline strategy and hopefully, with one of these solutions, I'll quit being his target.
2nd Time buying this product
I have one cat that refuses to use a scratching post or board and she only scratches the sofas when we are around. Once I spray the sofas, she stops until it wears off, but it works.