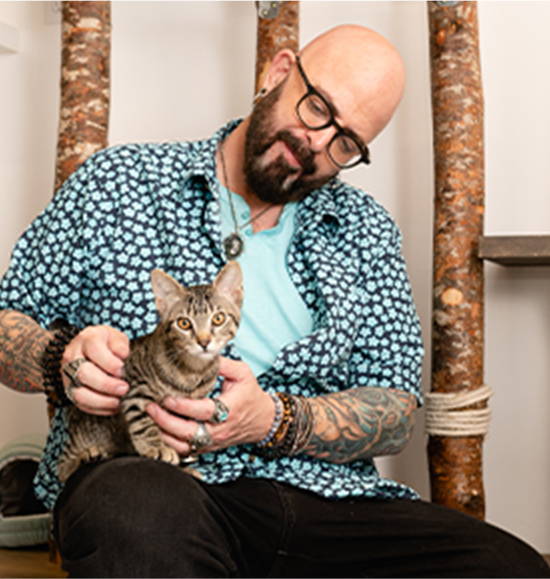 Join our newsletter today to
GET $5 OFF your first order.
Join our newsletter today to
GET $5 OFF
your first order.
Longggg delivery
It took two weeks to receive my order. Don't know why. I just started the product last night after I received it.
very pleased.
We bought this for our wonderful kitty Gizmo. Sadly his heart gave way to congestive heart failure on the way to the vets today. We are totally heart broken with his loss. He was only six.
I think it's helping
We have 6 cats. For the most part, they get along okay, except for Fluffy Jeff. She's a bit of work. She thinks she's the queen bee. And sometimes she's a bully. Actually often. And she's grumpy. She's hyperthyroid and we're trying to get enough money to get the procedure because she's allergic to the thyroid medication and the thyroid food. In the meantime, we have a holistic medicine for her. And we have added this to her food 2x a day. She loves to come lay next to me when I'm in bed. But 2 of the other cats, Lily and Oswald, are usually there. And they also get sad when they want to snuggle, but she's there. It usually ends up with a bit of hissing and grumbling and then one or all of them running off. They're not exactly fond of Jeff, but they tolerate her to a degree because they know we love her too. But lately, I'll be laying there with Jeff next to me and the 2 older cats will come over and lie next to me too. Literally within inches of Jeff. And everyone just lays there. No attacking, no hissing or grumbling. They're all just chilling. This has never happened before. We've had Jeff for years now, but not nearly as long as we've had the others. So they are still like, ugh she's bugging me Mom. But recently they are not getting as upset about it. And to actually lay next to each other is amazing. I'm also putting it in Oswald's food 2x a day. He's one of the cats I mentioned. And he's not freaking out about her in the bed near him. I have not been giving it to Lily, the other one I mentioned, but I think it is helping Oswald and Jeff keep the peace and then Lily is just going off those vibes. When I took this picture, Lily was laying on my pillow also within inches of Jeff. Everyone just chilling out and snoozing on me for a while.
Fantastic!
We used the Intensive Care on our little Lulu before her vet appointment. Our cats don't travel well. They scream all the way during the ride. Not this time! With the drops in a bit of wet food, Lulu was perfectly content on the ride there and back. She's now been to the vet 3 times for this issue. With the Intensive Care, each trip has been stress-free. Thank you, Jackson Galaxy!
Technically I can't review this item
We got this for our cat that was about to start chemo. He passed before we got the bottle. I donated the chemo medicine and this bottle to a local foster program.