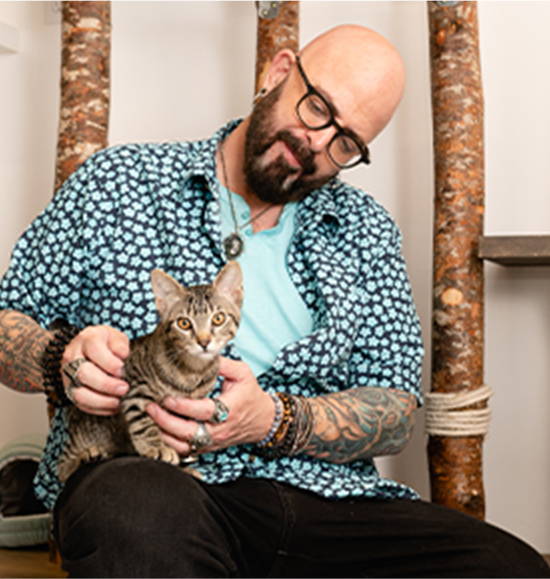 Join our newsletter today to
GET $5 OFF your first order.
Join our newsletter today to
GET $5 OFF
your first order.
Jackson Galaxy Book Bundle
Includes all of Jackson's current books. Already read his memoirs and cried through the last several pages (remembering what it's like to lose a beloved furry friend). Now reading the Cat Mojo book. … I'm on my tenth generation of house cats. Oh, how I wish I'd had this reference for the previous nine. But at least my current cat will get the benefit. Jackson's advice is priceless. The book on Mojo is worth memorizing, applying, and giving as gifts to all your your friends with cats. The universe of cats is a better place than it's ever been before due to Jackson's dedication and knack for sharing his knowledge in a friendly and humorous way. I am SO grateful!
Great information
I haven't actually read any of the books yet, but I have skimmed through them. There is a lot of helpful information, and I am hoping for some great stories.
Great Book Bundle
We've enjoyed these books and so have our friends. Thanks for a Great Book Bundle!
Book bundle
A wealth of information! A necessity for any cat guardian.
Very interesting insights into both cats and Jackson
So far, I've only read 2 of the 4 books (Total Cat Mojo and Cat Daddy). The former is a very interesting read into cat evolution and behavior, and how they communicate with humans, and how to live in harmony with them. I'm good with cats, but I still learned a whole lot. The latter is a memoir, detailing Jackson's journey with addiction and recovery. It is a very brave book to have written, and I feel like I know Jackson now, like a friend. While my life has been very different (more like his brother's who "has it all together"), there have been addicts in my life and maybe I understand them a little better. Also, his raw description of shelters and the over abundance of animals in the US has me now understanding why the shelter from where we adopted our 2 covid kittens was so weird and controlling about the whole thing. (All my other cats have been personal adoptions. This was our first foray into a shelter adoption.) The two other books I'm giving to friends. That didn't stop me from skimming through them first! ;) I've got some ideas for catifying the kitchen and improving the living room for our feline companions. Anyway, if you are a cat lover, you will love these books.