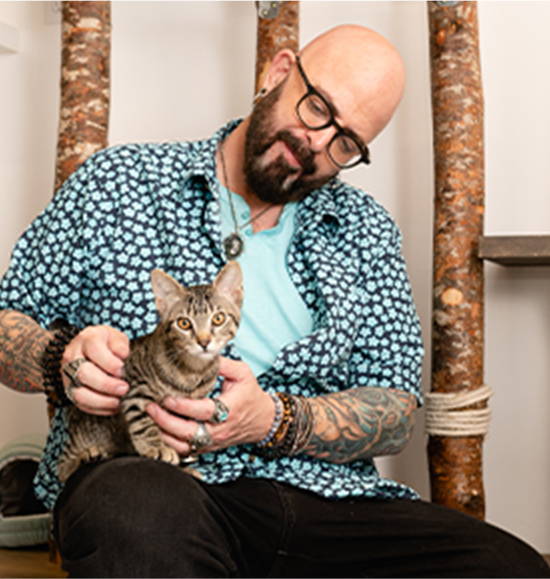 Join our newsletter today to
GET $5 OFF your first order.
Join our newsletter today to
GET $5 OFF
your first order.
Absolutely amazing stuff
I have been feeding 2 outdoor cats for 2 years without any physical contact (they would run if we got within a few feet of them) After giving them feral flower for a couple months we can pet them and even hold one 😍
Thank you from both me and my feral mama!
My feral mama loves it! She has really benefited from this solution. She greets me now and lays on my feet purring. Thank you for what you do!!
It Works!
I use this for a feral cat I adopted who lost a leg d/t a technician error during surgery. Since I've used Feral Flower, my dog walker and I noticed that Biscuit is more mellow and willing to come out of her hiding spots. I tried an antidepressant and she hated the taste and I didn't notice much change in her demeanor. LOVE using a holistic supplement! I was skeptical and now believe it works.
Sunshine is much more relaxed and sweet
I adopted a cat from the humane society. He's a beautiful orange tabby that had been at the shelter for a long time (4 months)—a stray cat and really shy. I brought him home to his cat room and he stayed in his carrier for a long time. Then he hid under the dresser for a few days (he came out for food & to use the litter box & to play.). He was skittish and would swat and nip without warning—not all the time, but enough. I read about Feral Flower solution and how it helped other semi feral cats, so I decided to try it. I started adding a few drops to his wet food, and after a few days, he calmed down and I could hold him without getting scratched or swatted. He started greeting me when I brought his food and new cat toys—and he loves to play!! (He can play for hours!!). After a month, he's a completely different cat.
Very Pleasantly Surprised!
I wasn't really expecting this to do much but I figured I would give it a shot anyway. I have been fostering 5 older kittens whom I rescued near a very busy road. The caretaker mentioned that cats get hit by cars there all the time, so I wanted to try to socialize them even though they were around 4 months old when I got them. They are over 6 months now. 2 of them are incredibly friendly, and 1 got adopted over a week ago. The other friendly kitty is getting adopted tomorrow. Now for the spicy ones. 1 is a very shy little girl who prefers to hide when I come in the room, and the 2 boys are just mean. They swat and hiss if my hand comes too close to them. Well, I started using the Feral Flower spray a little over a week ago and I am noticing that they don't fear me nearly as much. In fact, I've held my shy girl twice since I've started using it. She even purred in my arms today! As for the boys, their progress is slower but I'm still seeing it! I can put my hand up to their nose and they will sniff and sort of rub their noses on my hand, rather than immediately smack me. I would definitely recommend using this on fosters who just need a push in their socialization progress.