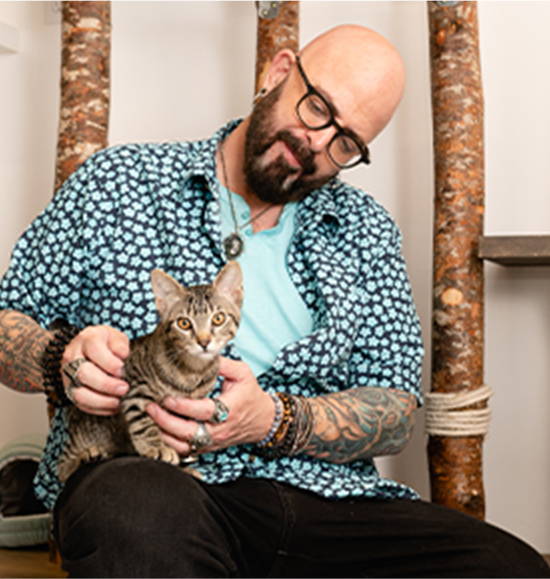 Join our newsletter today to
GET $5 OFF your first order.
Join our newsletter today to
GET $5 OFF
your first order.
Worked like a charm!
My cat has Cerebellar Hypoplasia and has some OCD behaviors when feeling stressed. She developed a compulsion with licking one of her hind legs until it was raw. I had taken her to the vet for tests. She had a clean bill of health so the vet believed it was some sort of compulsive behavior.
I didn't want to put her on anxiety medication so thought I would try this first.
I put 3 drops on my hand, rub it with my other hand, and then pet her so it goes all over her body. I do that 2x a day -- morning and bedtime.
It worked the first night!!
Her leg is now completely healed (it had no fur on it and the skin was raw to the point of bleeding).
Relief from pulling out fur
My cat's fur was looking terrible, the Vet suggested this Obsession as kitty was chewing off his fur. I rub it between my hands and pet him to apply. The large bare spot on his tummy is now showing signs of new fur! I just ordered the Stress solution as well. (We have new strays outside the house and kitty is not enjoying the visitations)
Obsession formula
After years of tail biting and wounds that wouldn't heal, finally I found the obsession formula from Jackson Galaxy. I wasn't overly optimistic but I'm very very pleased to say after a couple of months using the formula in her water my cat has stopped biting her tail and has fully healed! I'm so grateful! Thanks!
It's doing the job
I noticed the change in my cats behavior just a few hours after giving it to him...I now give it to him once a day..and believe me, if I miss a day, I notice the behaviors coming back. I didn't think it would work, but darn if it does...now I have a happy content 😺
Works pretty darn good
One of my senior cats has a serious stomach licking problem. She was on antidepressants for about 3 years. But sometimes she would start up for no reason and I would have to put a cone on her. She has been on this remedy for about 3 weeks and is off her medication and has stopped compulsively licking. Amazingly enough, her coat is looking better too and she isn't shedding as much. Too much of a coincidence?