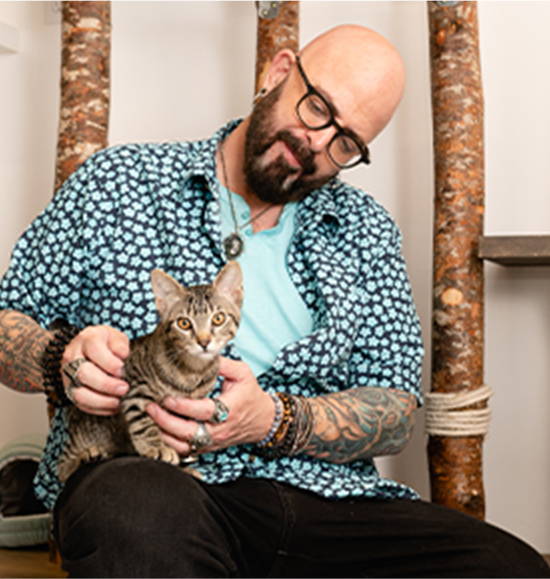 Join our newsletter today to
GET $5 OFF your first order.
Join our newsletter today to
GET $5 OFF
your first order.
Miracle in a bottle
My girl Abby was constantly scratching, she was miserable and seemed there was no end in sight. OTC flea medications didn't work, the fleas were making Abby so miserable, she began meowing all the time, (Abby hardly ever meows, the constant meowing was out of character), her behavior of meowing constantly became a huge concern and several nights of little sleep.
I turned to YouTube videos of Jackson Galaxy, I knew Cat Daddy would have advice or a solution to fleas. Back up 4 years ago, when I first brought Abby home, I was introduced to Jackson Galaxy to understand cats, and let me say I learned all I know about my Abby from Jackson Galaxy. From behaviors to catifying my house for Abby.
After watching several YouTube videos, I clicked on the website link. I found Flea-Ex, read the reviews, and ordered Flea-Ex that night. I received my package of Flea-Ex yesterday, I treated Abby immediately to ease her being so miserable. As of today, the fleas are GONE!!!!!! Thank you so very much, Jackson Galaxy for an amazing product!!!
Abby thanks you too!!!
I HIGHLY RECOMMEND Flea-Ex, it's a non-toxic formula and safe for cats and humans! Skip the toxic OTC flea medications and order Flea-Ex!!!!
Buy Flea-eX
My Fred cat is half in and half out of the house. He started out as feral and is very cuddly at times and that is when he is flea combed. Nothing worked as well as Jackson Galaxy's Flea-eX. If you love your cat, please buy and use -- and if you live in hot and humid southern Florida, just don't wait any longer.
Feline Essential Flea-eX Review
My sweet 10 year old Echi (E-chee)had never had fleas that I was aware of with regular combings. They appeared in the last year and got bad enough that I used the harsh mainstream poison in a last attempt to get those varmints away from her. Finally I had the sense to go natural but the problem remained until I ordered Flea--eX. After only two uses, they are all but gone. Soon I will be doing just the maintainence. Please try this product everyone, I cannot thank you enough, Jackson. I am elderly and very low income. This is a very worthy investment. Suzanne and Echi
It does work
This stuff does work (and I live in the South, so we're talking chemical-resistant, persistent eastern NC fleas here). It definitely both kills and repels fleas (have seen this with my own eyes) and it doesn't seem to do my cats any harm as a topical, even when undiluted. It also lasts for a bit, though I haven't yet figured out how long that is. It even seems to help with underage kittens, though I'm always cautious with that. I can spray it on myself and it keeps the fleas away for a while. No nasty drying effects on the skin like the traditional Dawn-and-apple-vinegar method, and it lasts longer.
If you dilute per the instructions, it will still work on the fleas, but it will take longer and the effect won't last as long. That said, diluted seems to work fine when you're just spraying on bedding or the overall environment.
Seems okay in conjunction with more traditional methods like Capstar and topical, too.
It works with no nasties!
Recently took in an older feral kitten who definitely had fleas. Gave him one bath with Wondercide shampoo bar and treated the rugs with Wondercide house spray. Used this Flea-ex by spraying it on a bristle brush and brushing through his fur to distribute it all over and my boy is flea free! Only a few natural ingredients, so I don't worry about toxicity. Thank you so much for offering a great safe product for our little buddies❤