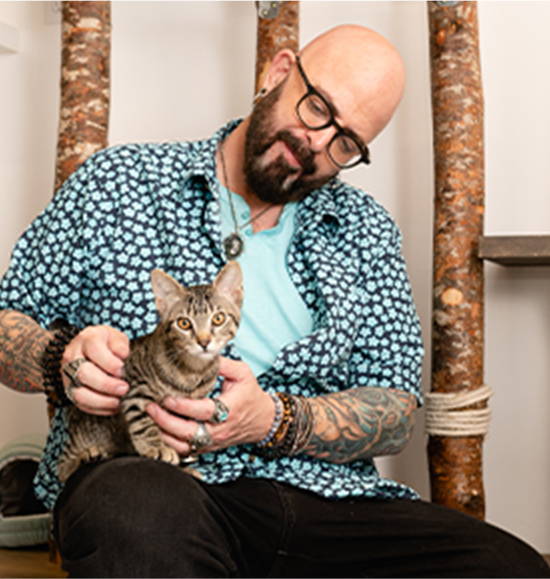 Join our newsletter today to
GET $5 OFF your first order.
Join our newsletter today to
GET $5 OFF
your first order.
Attractive and helpful bowl
I am enjoying the raised cat food bowl I received in December. My cat seems to like it as she does not have to get her whiskers bent into the edges. The bowl is easy to clean and attractive to leave out. Thank you.
A very happy kitty!
We were adopted by a starving, frozen, dehydrated stray in 2014. She's distrustful of humans and has many health issues, including an enormous number of allergies we control through immunotherapy and diet, but going outside is a problem. We bought her an extra wide raised cat food bowl, a kitty backpack, and a ripple rug. For a kitty who started out not knowing how to purr or play and hating all humans, she LOVES her new things! She's now able to go outside in her backpack on her Cat Daddy's shoulders, and we play many times a day with her in her ripple rub. The raised cat food bowl prevents food from falling out onto the floor, and she seems much more comfortable when she eats now. Thank you so much, Jackson, for all you've done for these beautiful, sweet creatures. You've changed our little girl's life for the better indeed. Love and thanks!
I like everything about the bowl except the lip on it it's not tall enough and when my cat she's a small cat she's only 5 lb but when she's eating it pushes the food over the edge of the bowl I think the lips should be a little bit taller
Raised Cat Food Bowl is Kitty Approved
I purchased this bowl recently for my senior cat and he really likes it. I notice he doesn't take his food out of the bowl anymore and seems more comfortable. Bonus, the bowl is really cute and easy to clean. I'll def purchase another at some point.