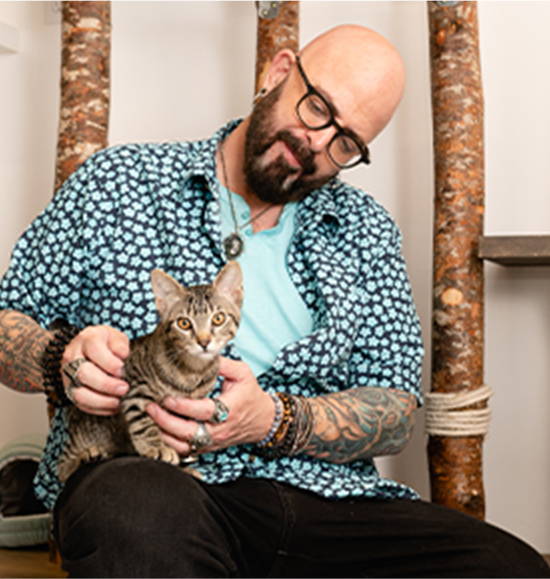 Join our newsletter today to
GET $5 OFF your first order.
Join our newsletter today to
GET $5 OFF
your first order.
Happy Cats!
All four of my sweet Furballs love their new cat tree, but Amber most of all! She claimed it right away, but she is a precious girl so she shares! It took only minutes to put the tree together and it is very well made with safe, quality materials. Thank you Jackson!!!
perfect, except for top perch
I love the tree except for the top perch. My cat loves the top for a deep sleep. I'm afraid without any sides, even small ones, he will fall off the perch.
Perfect for big cats!
I have Siberian Forest Cats and have two four month old kittens who were already playing and scratching on this tower before I had even finished assembling it. Nicely finished. Super tough hardware. Easy, quick assembly with easy to follow pictorial instructions. I prefer the fake fur over the carpet as it lasts far longer, and doesn't encourage scratching on the floor carpeting. And the rope pillars are super scratchable and tough!
I'm not impressed
I wanted to give my 12 lb house kitty a better view out of the picture window. I do not like the faux fur because she's a climber & not a jumper, so there's nothing for her to grip to pull herself up to the upper level, she's not interested in the wrapped uprights at all. It's also quite wobbly even though we have shimmed it every which way. I believe there should be 3 uprights from the bottom to the sure it up & there are only 2. The height is perfect. If I place her on it, she will sit for a few minutes, but as soon as she moves, the tree wobbles and she panics and jumps down. So if I were you, I'd choose another tree. I'll probably just donate this to the local shelter.
Base Poorly Made
The base had a poor design making the whole tower extremely wobbly. My cat liked it and wantd to use it but I didn't feel that it was safe for him. I could see him clinging on for dear life. It was that wobbly. The heads on the screws on the underside of the base extended beyond the base making the whole structure wobbly and also making it possible to scratch hardwood floors. The ends of the screws should be flush with the base so the structure can be sturdy.