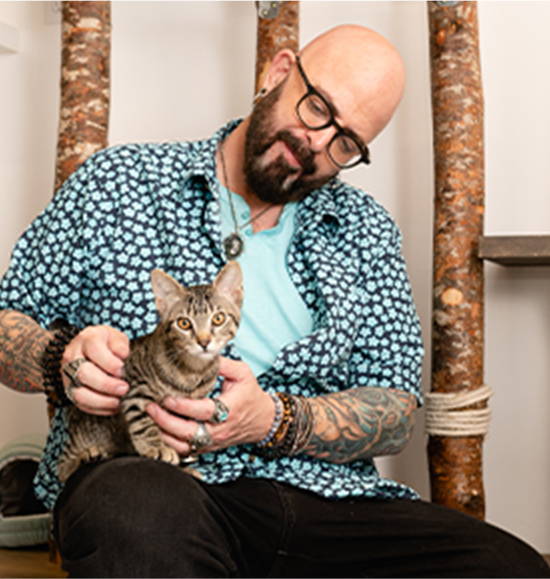 Join our newsletter today to
GET $5 OFF your first order.
Join our newsletter today to
GET $5 OFF
your first order.
Ultimate Skin Soother Set
Calie was obsessed at scratching herself. It's been about two weeks when I started her on the three products. She's calmed down at her scratching, but still has a bit to go. Hoping within the 30 to 40 days she will be a lot better and scratching even less.
However, I have learned to put the drops on my hand rub my hands together and than rub on Calie. I think, this will really help the process go a little faster for Calie to heal. Plus, put it in her dinner, also Tangee and Tiggles dinner. None of kitties, well actually cats, seem to mind it....they gobble up their food :)
Seems to be helping
My cat Maru has horrible skin issues. It's not food related and seems to be worse in the spring and fall. Medication hasn't helped. We've been using the skin soother for a week and she seems more comfortable. She's not scratching as much and seems less stressed out. I'm hoping that it keeps getting better!
Seems to be working!
My 13 year old female tortie started obsessively overgrooming and scratching herself. Tests for parasites, fungus, etc were negative. Vet said she did need a tooth pulled, that may solve the problem. It didn't. After 8 (yes 8) rounds of antibiotics, which severely affected her GI system, and 8 rounds of gabapentin, which she would just gack up, then hide under the bed for 2 days after we gave it to her, we tried a more holistic approach. She's down from multiple grooming/scratching episodes to about 1 or 2 a day. She's back out & around, demanding to be fed! I add the Skin Soother to her food, which is not a problem unlike other meds, and alternate Obsession and Stress Stopper during the day. Thank you, let's hope it sticks!
Really works, so far....
My torti, Coco l, was over grooming and pulling her fur out. Something she started doing last year and we got Stress Stopper and it seemed to help. We also ensured we got her some interactive toys and played with her more. This year she started the fur pulling again. I ordered trio pack of the Ultimate Skin Soother. The best way to give it to her is by putting each dropper, how about half a dropper, in her water bowl. I don't know if it's a coincidence but she stopped licking licking licking pulling out fur. Sometimes it looks like she's overlicking but at least she's not biting and pulling out her fur. I hope this lasts!!
Highly recommend
I purchased the Ultimate Skin Soother set for one of my recently adopted senior cats. He had been found on the streets in July, adopted, then quickly returned to the shelter. The people returning him said he was not a lap cat and too active. I have no doubt that Tigger felt that loss of a home deeply, and after a few weeks with us, he began overgrooming and pulling chunks of his hair out. I researched natural remedies and came across the Jackson Galaxy products. I waited four 4 weeks to write this review, because I wanted to verify that it works. Well, it does, it really, truly works! Tigger's hair is growing back, he no longer pulls chunks out hair out, and lo and behold, he is now officially a lap cat! He also became a loving companion to my beloved Groot, another senior rescue we took in over four years ago, and Tigger stayed by Groot's side snuggled up every day for the last two weeks of Groot's life. I am so grateful that Tigger found his place in our home, and knows that he is safe from being returned. I firmly believe that the Ultimate Skin Soother is what helped him, thank you so much for helping our sweet boy.