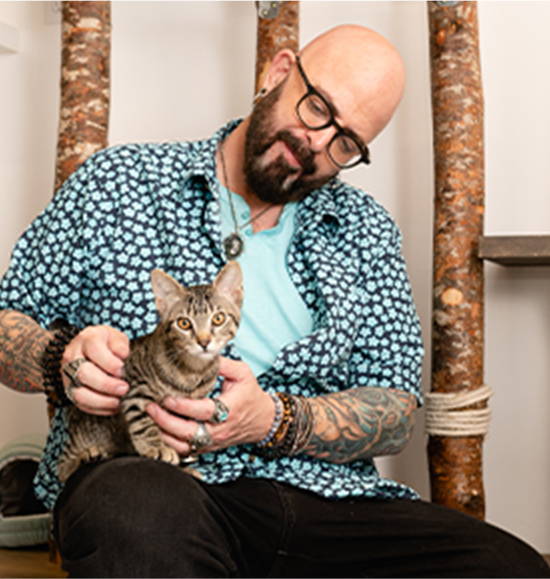 Join our newsletter today to
GET $5 OFF your first order.
Join our newsletter today to
GET $5 OFF
your first order.
Cats took to it instantly!
Our cats started sitting/ lying on pieces of the tree even before we'd set it up. They barely allowed us to screw the parts together! They seem to love the material, and perch on this tree all the time. It's also really beautiful aesthetically. Very happy with how this turned out!
Baby girl loves it.
This thing is a mantion. Be sure to take measurements before you buy. But it's so sturdy and definitely worth it.
Excellent cat tree!
I purchased this several weeks ago, and just put it together today. Shipping was incredibly fast. Assembly was incredibly easy. This thing is sturdy, and big, which is exactly what I need in my household of 9 indoor cats. The new tree is too big to place where I had intended, so I've just ordered another, smaller one, and can't wait to get it.
Armarkat Classic 69-inch Cat Tree, Beige
need to have sturdy trees as I have 12 cats in my house and they have to have places to hide and play
This is the one.
I'd never heard of, or seen, the Cat Whisperer but I was quickly won over by his empathic approach to kitty-cat well-being. I was overwhelmed with all the cat tree condos choices for sale online but was put at ease knowing that the products here weren't "Cat Daddy Approved" without being a benefit to both kitty and caretaker. I needed a good, quality tree that would last a while for my for my one year old cat Daisy. It had to be capable of giving her plenty of places to get a rest or get some play and help keep her from feeling lonely and bored while I'm away at work as we'd both recently lost her older playmate to congenital cardiomyopathy. I picked this one because it has it all; a hammock, a rope, enough platforms to host an episode of American Bandstand, a basket and a tall tower with a large stable platform for a lookout. This thing is tall at just about 6 ft. It's stable and sturdy enough to make me forget its cardboard core posts and fiber/particle board origins and feels solid enough that I would even be comfortable letting my 20+ lb. Norweigan Forest cat play on it if he were still with us. I'm not worried about this one coming down anytime soon. I was a little worried she wouldn't care about it or even worse, be intimidated by it (she's a tad skittish) but I had no cause for concern whatsoever. She claimed this thing and was all over it before it was even half way built!! We had it up in just over a half hour and that was only because of Daisy's intense "supervision" of our work. Once we got it up and placed she went through it all again & she couldn't make up her mind whether she liked the top basket, the cubby or the tip-top cat-bird seat the best. I think her favorite (for now) is the top lookout platform. Daisy really loves to be high up where she feels best able to lord over us mere mortals. I guess it's her version of the iron throne.