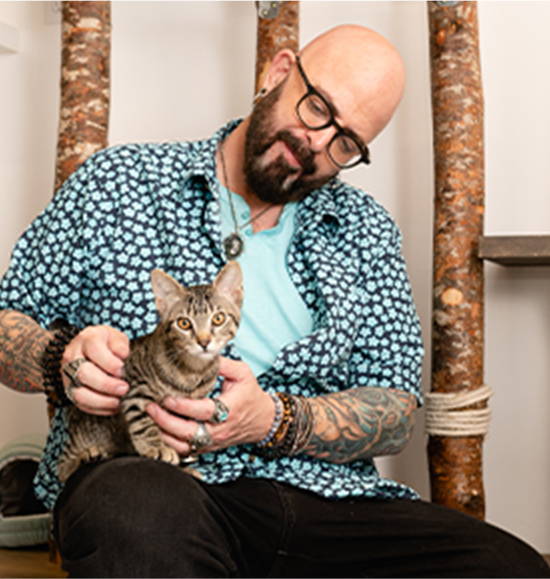 Join our newsletter today to
GET $5 OFF your first order.
Join our newsletter today to
GET $5 OFF
your first order.
Love the comfortable design
I've been leash training my cays for over 14 years. I love that this harness does not go around the neck and fits around the cats body. It goes on very easily without too much fuss over velcro. I like that it's minimal velcro as I have long haired Persians and hair gets stuck in velcro parts. My kitten size S is still too loose for my girl and she keeps getting her paws out but as she's still growing I didn't want to go a size down. My boy is trying to get used to walking outside again but his size L fits him perfectly. Not too loose not too right. I recommend. The only thing I don't like is the leash is too short.
Adventure begins at the end of the leash
I have a young (6 mo) kitten. He was good wearing the harness the first time. Once he got to step outside he associates his harness with adventure in the yard. Excellent product!
Walking Time
We are still getting Rufus comfortable with the harness. I love the style and set up, but hopefully soon we will get to actually take a walk
Super and Secure
Well constructed, very secure for our 18lb rambunctious boy!
My cat loves the harness.
Jasper is 98 (in cat years) and is set in his ways. I am his third person. He is a grey Marble Bengal. He prefers indoors. He slipped out of his previous harness all of the time, and hissed whenever I put it on him.
This harness hugs him like a warm sweater. I put it on and let him wear it for a while before attaching the leash.
I use an Aspen Pet Walkabout, so the cat has a lot of supervised freedom. He only slipped out of this harness once during a "perceived emergency": a loud garbage man/truck pulled up in front of Jasper's front step and made a lot of noise. The cat made a bee line through the open front door, jumped out of the harness, and hid in the back of the house.
The moral of the story is, he likes this harness. It is comfortable. It is not a straight jacket for a crazy cat. He knows that if he really wants to go outside he goes to the harness and leash, and stays in it BY CHOICE.