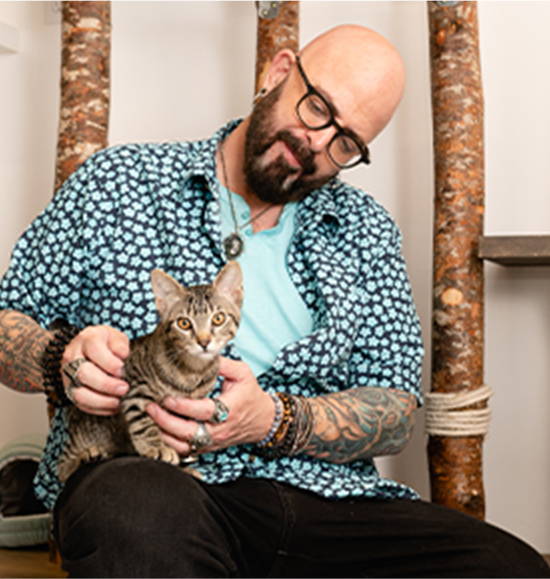 Join our newsletter today to
GET $5 OFF your first order.
Join our newsletter today to
GET $5 OFF
your first order.
Right in it!
I'd barely gotten the box on the floor when one of our 4 cats jumped in and claimed it! Then the other 3 in succession took their turns (except for poor Biscuit, the Maine Coon who could not fit the 27 pounds worth of him!
Favorite Kitty Bed!
My Scottish Fold loves loves this bed! She won't touch anything furry, fluffy, or fuzzy so this is perfect! Sometimes she's likes it with all the sides snapped in the position of a box and sometimes she likes one side down. She rides in the car in it
and it helps her with the turns. I hope they make more colors and more stable padding so when I wash it, it doesn't get mangled and worn out over time. We are on our 3rd bed, we have them everywhere!
Kids love it!
My maine coon Shadow and his smaller brother Georgie both love this bed. Im so glad I made the investment.
Nice box, but kitty isn't using it
Let me start by saying Klatu was never a big box-cat to begin with. I bought the smaller size, he ignored it . He's a little on the large side, so I thought what the heck, and bought the larger box. I even sprinkled it with catnip to entice him. So now he walks to the box and looks at me expectantly until I sprinkle some catnip in it, then he lays across the side to lick it up! It's actually pretty funny how it's worked out. So he's still not a box-cat, but it's a nicely-made box, so 4 stars anyway.
Whisker box
I was disappointed. There is no padding and it's not washable. My cats use it, but they prefer the bed I bought from you. It's like the bottom half of a carton.
Also, the cat toys I purchased aren't washable either.